TAWAU: The first geothermal power plant in the country has received good response from villagers, environmentalists and opposition leaders whose main concerns are environmental impact and costs.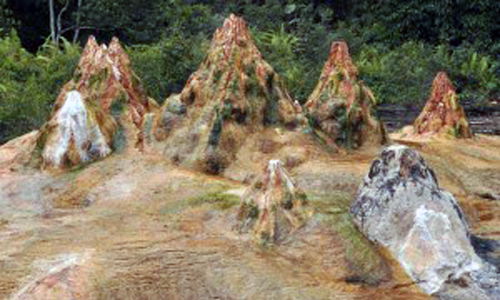 A dialogue session was conducted by Tawau Green Energy Sdn Bhd at Kampung Tass, Andrassy community hall here yesterday to tell the people of the benefits of the clean energy being proposed by the company at Apas Kiri area, Mount Andrassy Forest Reserve/Taman Bukit Tawau.
The project is located at the southern side of Maria Peak.
Sri Tanjung assemblyman Jimmy Wong who is also DAP Sabah chairman, said the proposed project is good as it is environment friendly, and congratulated the company for being the first in the country to bring in this technology.
Jimmy also asked about the risks involved and whether there is a guarantee that Tawau, especially those in Andrassy, will be given top priority to take up 500 job opportunities in the proposed project.
Project director Andrew Amaladoss assured Jimmy that the plant operation is very safe and that risks only arise if there is a breakdown at the plant and auxiliary equipment, including normal wear and tear.
Providing assurance, Andrew cited the first geothermal plant in Italy as an example, which is still running.
On job vacancies, he said priority would be given to residents of Tawau and those staying nearby. On the issue of salary, the company would take note of the higher cost of living in the state.
Meanwhile, Sabah Progressive Party (SAPP) Supreme Council member Kenneth Goh hopes it is not a test pilot project.
He added that it must be ensured that the project is not a waste by the government again.
However, Kenneth said he is glad to see the proposed project being carried out in line with the national green energy policy.
To his question during the question-and-answer session, Kenneth was told that the plant will cost RM300 million.
The cost, in comparison with other plants, will show significant benefits in the long run and it is not an IPP (Independent Power Plant) but a small renewal energy power plant.
Sabah Environmental Protection Association (SEPA) president Wong Tack said he is happy to hear of the project even though six months ago Sabahans were told that there was no other alternative except for a coal-fired power plant.
He said Tawau should be proud because it is the first in the country and hoped the company will carry out the project with serious integrity.
Wong only expressed concern for the forest reserve being used as forest is very important to carbon credit.
So he called for some more dialogue sessions with the people and reports that are easier to be understood by ordinary people.
Wong was told that the stakeholders are all from Sabah, and according to the agreement and approval from the federal and state governments, the stake cannot be sold to others.
But Green Surf's Tawau chairman Gary Yap questioned the level of the plant at an elevation of 200 metres from sea level.
However, he said he would pose his question again in the next session.
Tawau Consumer Association chairman Sylvester S Taing, who asked whether there would be an increase in tariff and side effects on the farming community at Kampung Tass, was told that the electricity tariff would remain the same for 20 to 30 years.
This is based on the agreement and no areas will be disturbed and that there will be no side effects on farmlands as it is only electricity and water steam.
Tawau Green Energy Sdb Bhd website www.tgepower.com explains that geothermal energy is a renewable green energy that does not require fuel-burning to produce heat or electricity.
It is derived from the earth's natural hot geothermal water, usually from hot spring, to generate electricity.
Geothermal power plants emit little carbon dioxide, negligible nitrogen oxide and very low amount of sulfur dioxide.
Geothermal energy, the heat of the Earth, provides continuous, 24-hour a day, clean, sustainable energy production.
Together, advances in technology, private investment and government support are increasing geothermal energy production in the United States and worldwide.
It is considered a renewable resource because the heat emanating from the interior of the Earth is essentially limitless.
The heat continuously flowing from the Earth's interior, which travels primarily by conduction, is estimated to be equivalent to 42 million megawatts (MW) of power, and is expected to remain so for billions of years to come, ensuring an inexhaustible supply of energy
A geothermal system requires heat, permeability and water. The heat from the Earth's core continuously flows outward.
The heat sometimes, as magma, reaches the surface as lava, but it usually remains below the Earth's crust, heating nearby rocks and water.
The heat sometimes may also rise to levels as hot as 700¢XF. When water is heated by the Earth's heat, hot water or steam can be trapped in permeable and porous rocks under a layer of impermeable rock and a geothermal reservoir can form.
This hot geothermal water can manifest itself on the surface as hot springs or geysers, but most of it stays deep underground, trapped in cracks and porous rock. This natural collection of hot water is called a geothermal reservoir.
Operating geothermal power plants utilise fluids that flow through fracture networks of heated subsurface rock which creates reservoirs of hot fluid or steam.
The process is similar to other fuel thermal power plants except that it does not require burning of any fuel.
It will utilise energy from natural steam and/or hot water from the geothermal reservoir. When the rising hot water and steam is trapped in permeable and porous rocks under a layer of impermeable rock, it can form a geothermal reservoir.
The hot pressure fluid will be confined and managed, then will be used to drive turbines and generate electricity.