26 March 2012 
Report Prepared By: Sabah Environmental Protection Association
1. Introduction:

16/03/12

SEPA was contacted by the Kampung representative of Kg Ambual (Garius bin Pukin), with a complaint against water quality in their area.
SEPA conducted a site visit, to Kg. Ambual and to Sook oil Mills  Sdn Bhd.

2. Background:

Kampung Ambual is inhabited by the Murut Ambual, population of 1035.
Kg. Ambual moved to its current location decades ago due to various reasons, where part of the old site was gazetted as a forest reserve and part was alienated to cater for an oil palm plantation.  The villagers claim to have tried to apply for their ancestors land, however was not done formally and relied upon the Wakil Rakyat.
The villagers of Kg. Ambual rely heavily (70%) on direct water supply (picture, pg 6) from the river. The piped water supply built by the government (20 years ago) is insufficient for this population's usage.

Kg. Ambual also depends on the river for fish and shellfish for livelihood. Their dependency on the river also goes towards watering their crops and padi.
According to Garius, the village representative, the Mill was built at the old kampung site in 2008 (Newspaper article, Pg 5, 7.1).
Mill has been operating for the last 3 years.

3. Facts:

29/04/08

Kg Ambual reported poor water quality due to site clearing and building operations of Sook Mill that is located up stream. Newspaper clipping attached (Pg 5, 7.1).
No report available from DOE.

12/12/11

Community complained to Garius on the Water quality of the river (pictures Pg 6, 7.2)

Freshwater shellfish and fish found dead in the "tagal" area about 5km downriver from the mill.
Padi harvest in early march down by 40%. Harvest from the earlier 2 rounds yield was 4.16 ton/acre, March = 1.3 ton/acre. DOA was called in but to date have not taken soil samples to determine cause. (pictures Pg 7, 7.4)

Complained to DOE, DOA, Wakil Rakyat.

January (late)/12

DOE visited the affected site and the mill in late Jan, water samples taken but to date no results.

4. Issues:

The village drinking/eating water supply is disrupted and they need to now travel into town to buy water which is becoming a heavy cost to them.
The villagers that rely on the sale of padi for their livelihood or for their diet now have to buy rice.
Sales from freshwater shellfish is no longer available, and source of protein (fish) is not available.
Although the Village Rep is sure that the affected river is the source of their water problems, this is being disputed by the Mill representative. There is a need to verify the route of river.
Further investigations needs to be done to determine the  claim of reduction of padi harvest to 40% is linked to the effluent discharged from the mill.

5. Solutions:

In a discussion between SEPA , Village Rep and Sook Oil Mill, it was agreed that an immediate solution to the problem of drinking water would have to be dealt with.Village Rep (Garius) stated that there was an unaffected tributary that was still clean and that a piping system could be dragged to the Kampung. The Mill Manager (Arthur Chui) agreed to aid in this to overcome this most urgent issue. He also suggested putting in a filtration system.However, SEPA did state that it was important for the mill to stop directly discharging as can be seen in Pg 7, 7.3 into the rivers and that there was an urgency of desludging its POME ponds as it had not been desludged in 3 years. Arthur further added, that they were having trouble with its polishing plant and that the consultants were causing them problems.Arthur had also stated that he had submitted his report and has added that POME treatement should be conducted. But this was up to the owner's discretion.

6. Conclusion:

The interim solution is to deal with the villagers' emergency situation. However SEPA recommends that a long term solution that is viable should be worked on. SEPA has conducted research with a partner group in West Malaysia dealing with POME treatment and has successfully completed its pilot stage. This system works towards a zero discharge system.
***
News Paper Clipping (Click to download the news)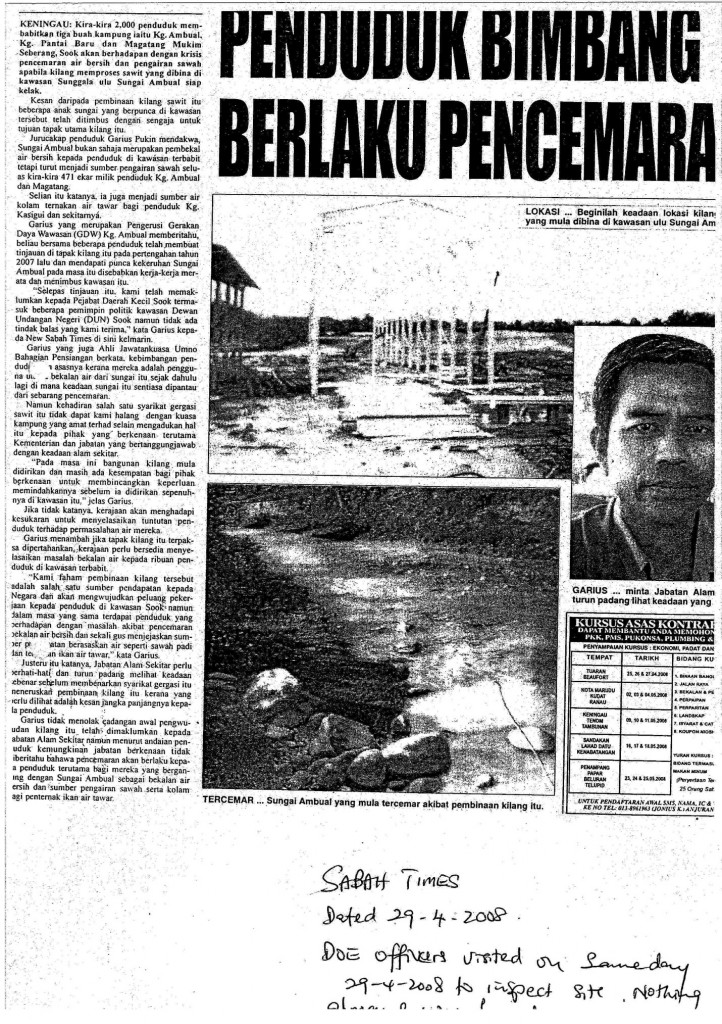 Related News:
Penduduk bimbang kesan pencemaran kilang kelapa sawit
PENDUDUK BIMBANG BERLAKU PENCEMARAN
***